To change gadget options, right click on the VVEngine Gadget and select Options.
The following options are available:
VVEngine address: This is the VVEngine address where the gadget gets the profile information from. The default address is http://127.0.0.1:8001: this is the standard address when VVEngine is running on the local machine.
Profiles per page: Number of profiles per page to be displayed in the VVEngine gadget.
Auto-scroll: Sets the gadget to automatically scroll through pages if necessary.
Refresh rate: How often the gadget refreshes and gets updated profile information from VVEngine.
---
More Options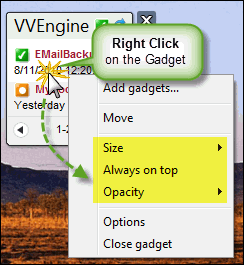 Size: Sets the gadget width / size on your desktop.
Always on top: Keeps the gadget always on top of all other open windows so it's always visible.
Opacity: Sets to what degree the gadget is visible. 100% opacity sets the gadget to completely visible. 20% opacity sets the gadget to almost completely transparent.